Welcome to 586 Records
An independent record shop in Gateshead
Please Take A Moment, To Read The Following Information
We are open Tuesday to Saturday 1030-1700 and closed every Sunday and Monday.
Our Address is 1st Floor, Atlas NE, Orbis Community, 65 High Street, Gateshead, NE8 2AP. Please be aware that there is no official signage up on the front of the Building.  The "Auto Trader" sign has come down – but we are in the same building. Entry to the shop is via the other side of the building and into the courtyard. Press the Black bell for 586 Records once. The door is electronically locked and myself or a colleague has to come down and let you in. Allow us a minute or so for this to happen.
For those travelling South over the Tyne Bridge and onto Gateshead, by Car or Motorbike. Stay in the left lane and take the exit for Gateshead Quays. At the sign for Sage Gateshead, take the left turn. Approximately 10 metres after, there's a tight left turn into what is the Car Park for Orbis Community. Entry is via the rear of the building. Free Parking for our customers. For the cyclists, we have secure bike racking. Please bring your lock.
Unfortunately, we cannot offer access to anyone using a powered chair or a wheelchair. There is no lift within the building and one set of narrow stairs from the ground floor, to the 1st floor and our premises. 
We have over 15,000 Records for sale, both in Store and Online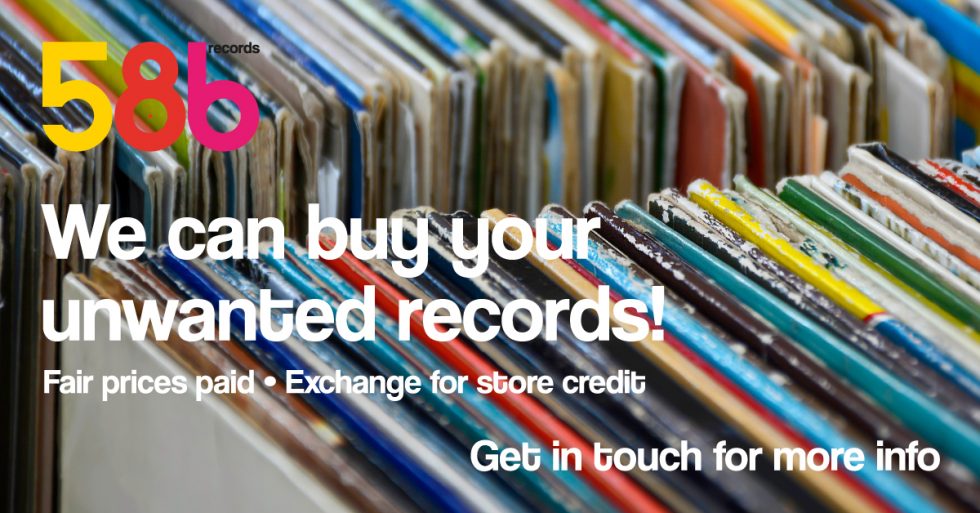 We can buy your unwanted records
We are always interested in speaking to you about buying your unwanted, quality Record Collections. Alternative, Balearic, Blues, Disco, Dub, Electro, Folk, Funk, Garage, Hip Hop, House, Indie, Jazz, Krautrock, Punk, Rock, Soul, Techno.
However! This does not include 78's, Classical, Country and Western, Gabba, Happy Hardcore, Makina, New Monkey, Opera or Readers Digest Boxsets. Also, not all Records are valuable and The Beatles sold millions of copies of their LP's – please, bear that in mind. We also do not buy CD's or DVD'S.
Please phone us, ahead of visiting and allow us to confirm we're happy for you to bring records you may wish to sell –  before bringing any to the Shop. Please do not arrive without us having confirmed. We have a 3 Day turnaround on viewing records and then, offering a price. We cannot offer a price, on the spot. 2 forms of valid I.D. will need to be provided, should we agree on buying.
Alternatively, we can sell your Records for you – maximising your financial return!. Please read a Seller's Testimony, on the Website, as to the quality of service, we provide.
Other information
We have approximately 15,000 Records for sale, Online and In-Store. Our Online sales are 14,000 plus. Customer Feedback totals over 99.7%. Buy, with confidence!.
Records can be bought DIRECTLY from us, that you see on our Discogs page. Please email us, for more information.
We accept Bank Transfer, Cash or Paypal Transfer.
We offer a Record Cleaning Service, using our Moth Mk2 Machine. Priced at £1 per Record. 12″ Vinyl only.
We do not sell any HI-FI equipment, spares or arrange repairs. We do not sell tapes.
For Technics 1200 / 1210 Turntable Servicing And Modification, we recommend @dizdeckserviceuk.